Gottfried Silbermann's Fluework
by Colin Pykett
Posted: 1 March 2008
Last revised: 16 August 2014
Copyright © C E Pykett
Abstract. Gottfried Silbermann's organs have always been famed for their "silvery sounds". This article reports the results of research which focused on some characteristics of his fluework in an attempt to see what this might mean and how his results were achieved. Using acoustic measurements made on a surviving Silbermann organ, details of how his Principals and Flutes were probably regulated are presented. They demonstrate how the acoustic power output of individual Principal and Flute stops varied across the compass, and how it compared with the other ranks comprising these two varieties of chorus work. These data are original, detailed and made available in the public domain for the first time. Suggestions are made as to how the results might be used in practice when voicing organs which are intended to have Silbermann-like tonal characteristics.
Contents
(click on the titles below to get to the desired section)
Silbermann's organs in the 18th century
Aural Effect – voicing and wind pressures

Since the time he built them in the first half of the 18th century, Gottfried Silbermann's organs have been famous for their "silvery sounds". This is no mere play on words, because it is only necessary to listen to pieces such as Bach's Pastorale in F (BWV 590) played on one of the surviving instruments to appreciate what is meant. Given the high wind pressures he used (typically 95 mm/3.7 in water gauge) and the consequential power of his Principal choruses, it is all the more extraordinary that he managed to achieve such astonishing tonal contrasts within a single instrument.
This article presents the results of research which has occupied several years. It has focused on some detailed characteristics of his fluework in an attempt to discover something of how these results were achieved. However it first looks at Silbermann's life and times, and briefly compares his organs with those of his illustrious near-contemporary Arp Schnitger because of the importance of these builders in the lives of the composers and organists of the day. The difficulties in trying to draw conclusions about the work of an organ builder who died over 250 years ago are then discussed, in view of the apparently widely held but probably mistaken belief that today's so-called "Silbermann organs" are much as he left them.
Detailed results of how his Principals and Flutes were probably regulated are then presented. Based on acoustic measurements made on a surviving Silbermann organ, they demonstrate how the acoustic power output of individual Principal and Flute stops varies both across the compass, and relative to the other ranks comprising these two varieties of chorus work. These data are original and made available in the public domain for the first time.
Finally, some suggestions are made as to how the results might be used in practice when voicing organs which are intended to have Silbermann-like tonal characteristics.

Figure 1. Saxony - the area in which Gottfried Silbermann lived and worked
During this study I found it helpful to relate Silbermann's work to the context of his times and where he spent his life. He was born in 1683, just over two years before J S Bach, near Frauenstein which is marked on the map of Saxony in Figure 1, that area of Germany in which Dresden is the chief city. In those days Germany was not the unified nation of today, instead it consisted of a number of independent principalities. Gottfried's older brother, Andreas, also became an organ builder who lived and worked mainly in what is now eastern France, around the Strasbourg area and close to the border with modern Germany. Gottfried worked with Andreas for some years before setting up on his own back in Saxony in 1710. He established his workshop in Freiberg and remained there until his death in 1753, just over three years after that of Bach. At the start of his career he built the organ in Freiberg cathedral, and when he died he was building a large one at Dresden (the Katholische Hofkirche). Between these landmark instruments he built more than 40 others.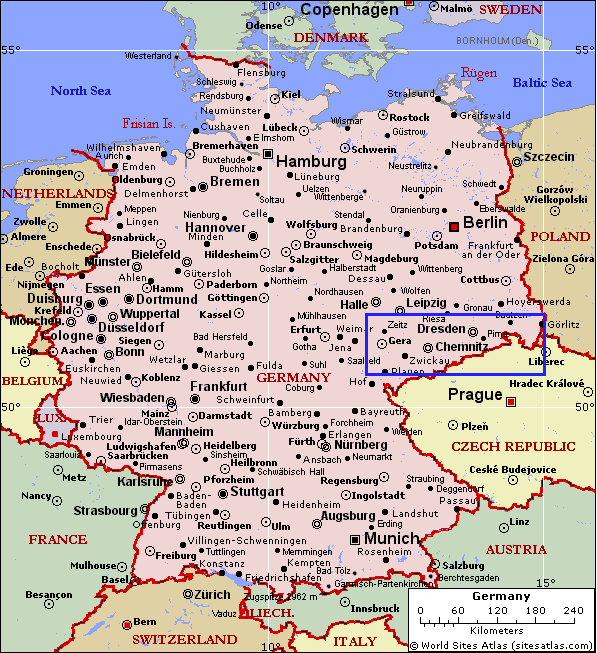 Figure 2. Modern day Germany showing Saxony
(courtesy World Sites Atlas http://www.sitesatlas.com)
The main towns and villages where he endowed the churches with organs are sketched in Figure 1, and the relation of this small area to modern day Germany can be judged from Figure 2 where it is delineated by the blue rectangle. Thus it was some 500 km (300 miles) south east of the area where Arp Schnitger (1648 – 1719) was active, in the north of the country around Hamburg and in the Netherlands to its west. This geographical separation between what were then separate countries was comparable to the distance between London and Carlisle, and it was huge by the standards of those days given the difficulty of travelling. It was partly responsible for the considerable differences in the styles of the organs of the two builders even though they somewhat overlapped in time.
Silbermann's organs in the 18th century
A hallmark of Silbermann's organs was that he adopted a uniform style of design as far as possible. Many of his two manual village organs, such as those at Reinhardtsgrimma, Fraureuth and Helbigsdorf (see Figure 1 for their locations), had similar stop lists. For this reason he is sometimes credited with having invented the concept of the factory organ, taken up so enthusiastically thereafter by those with more interest in profit than artistry. This does not imply that Silbermann himself made little profit from his work because he apparently became wealthy, though this was probably more the result of his connections with well-heeled patrons than anything else. Also – and sensibly - he did not have all his business eggs in the one basket in view of his equal fame as a builder of pianos, harpsichords and other keyboard instruments besides the organ.
To assist in setting the scene for what follows, it is relevant to compare Silbermann's organs with those built by Arp Schnitger, touching on only a few basic facts for reasons of brevity and to retain objectivity.
Aural Effect – voicing and wind pressures
In contrast to Schnitger, Silbermann used quite high wind pressures. Even in his smallest instruments a pressure around 95 mm water gauge (nearly 4 inches) was typical, and therefore his organs must have been, quite simply, rather loud and powerful. An article elsewhere on this website contrasts the Principal stops of the two builders and contains aural examples to listen to [5]. At the same time much was made both then and now of the "silvery sound" of his organs, and this seems to be more than just the famous pun based on his name ("Silverman" in English). I shall return to what the description might have meant later in this article as it was one of the pointers which led to the work to be described presently.
Knowledge of Schnitger's pipe scales is somewhat uncertain. Although writers continue to discuss them, one problem is that they were usually specific to a particular instrument, many of which incorporated re-used pipework from earlier organs by other builders. Thus deriving data at a more generic level is difficult, and it completely defeated Ralph Downes who was desperate to base his pipe scales at the Royal Festival Hall in London on Schnitger's practices [2].
Silbermann's scales were better based in that we know more about them and moreover they appeared to conform to rules we recognise today, indeed he contributed to the establishment of those rules. Rule and rote is another reflection of his desire to streamline the process of organ building. Thus he arrived at the method of routinely halving the pipe diameters every 16th or 17th note, at least over part of the compass of a given stop. Later endowed with a somewhat dubious theoretical basis by Töpfer in the 19th century, this recipe was adopted as the so-called Normal Scaling by the Organ Reform Movement of the 20th century and still widely used today.
A more detailed discussion of Schnitger's and Silbermann's pipe scales appears in Appendix 1.
Other differences between the organs of Schnitger and Silbermann include the paucity of Silbermann's pedal organs, at least in his smaller instruments. While Schnitger typically provided at least as many stops on the pedals as on any of the manuals, Silbermann commonly restricted them to two or three stops in his small organs. However he usually threw in a coupler (sometimes permanently in action) to the chief manual whereas Schnitger did not – nor did he need to. Nevertheless, this is one reason why it is more difficult to sensibly render much of Bach on a Silbermann organ, in particular many of the chorale preludes and trios, thereby confirming the belief that he composed with a Schnitger-style instrument in mind [9]. (How can you play an independent melodic line on the pedals when a suitable stop is unavailable?). Nor did Silbermann include reed stops as frequently as did Schnitger, and it is possible that in his view his Cornet mixtures would have made up for their absence, at least when used in a solo role.
The stop list of Silbermann's village organ at Helbigsdorf is shown below: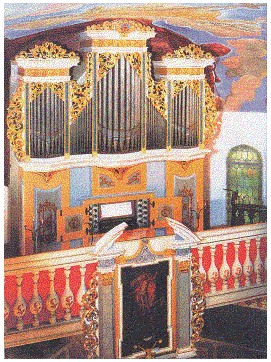 (courtesy Baroque Music Club www.baroque-music-club.com)
| | | | | | | | |
| --- | --- | --- | --- | --- | --- | --- | --- |
| Hauptwerk | | | Oberwerk | | | Pedal | |
| Principal | 8 | | Gedackt | 8 | | Subbass | 16 |
| Rohrflöte | 8 | | Rohrflöte | 4 | | Posaunenbass | 16 |
| Quintadena | 8 | | Nassat | 3 | | | |
| Octave | 4 | | Octave | 2 | | Hw - Ped | |
| Spitzflöte | 4 | | Terzia | 1 3/5 | | | |
| Quinta | 3 | | Sufflet | 1 | | Tremulant | |
| Octave | 2 | | Cimbeln | 3 fach | | | |
| Mixtur | 4 fach | | | | | | |
Silbermann's organ at Helbigsdorf, 1731
Curiously, both builders tuned their organs to much the same temperaments based on variants of mean tone tuning. This would have considerably restricted the range of keys that could be used. It is curious in Silbermann's case because of his progressive outlook in other respects. However in Schnitger's it was understandable – he was active largely before Werckmeister's various well-tempered tuning systems, based on the earlier notions of Mersenne and the still earlier ones of Galileo, had become well known and popular. In fact Schnitger and Werckmeister were contemporaries. Thus the young Schnitger learnt his art on the basis of the early 17th century Praetorius school of organ building which knew nothing of Werckmeister's later ideas, thus he continued with its precepts virtually throughout his life.
Silbermann, on the other hand, worked some 35 years after Schnitger and was therefore more exposed to the somewhat later classical rather than high-Baroque musical influences. Based as it was more on homophony and melody rather than polyphonic contrapuntal writing, it is therefore surprising that he did not incline more in the direction of the well-tempered tunings that these composers were demanding. There is a number of instances where the exasperation of composers has come down to us, and Bach was apparently one of them. Simultaneously Silbermann is on record as disliking what he called the "sharp tuning" of equal (or near-equal) temperament in which all the thirds are indeed sharp, and unpleasantly so to an ear brought up on the purity of strongly unequal temperaments – though pure only in certain keys of course. (In the other keys the thirds are even sharper than in ET!) The uniformly sharpened thirds in equal temperament would have made a nonsense of Silbermann's apparent reliance on the third-sounding intervals in his mutations and Cornet mixtures for injecting the strong 5th harmonic necessary for synthetic reed tones, for example. Such ranks produce hideous beats when used for additive synthesis in equal temperament. Some remarks about how one of Bach's important works would have sounded on a Silbermann organ - the "great" prelude and fugue in C (BWV 547) - are at reference [4]. It would have been most unpleasant to play or listen to.
In all this we hear a lingering echo of strongly held opinions on both sides, confirming other evidence that Silbermann was of a somewhat stubborn disposition in any case. With his death in the mid-18th century, it is probably no coincidence that the battle to retain strongly unequal temperaments was finally lost.
It is more useful to look at what has actually happened to these organs, and a more detailed inventory of events can be inferred by studying examples. As an outline of the sort of tempestuous history to which these organs have been subjected one need only look at the Reinhardtsgrimma instrument, for which some milestones are as follows. Built in 1729-31, it was converted to equal temperament in 1852 when it was also revoiced. In 1953 the wind pressure was reduced from Silbermann's usual high value of 95 mm to 75mm, with yet another drastic revoicing of necessity to suit the reduced pressure. In 1997 the pressure was returned to 95 mm, the pipes revoiced yet again, and the temperament meddled with in some manner as mentioned above (even though it still sounds like ET to me!).
This sort of history means that every single original pipe in the organ will have been subjected to numerous interventions. Therefore I can only conclude that anyone who claims that these organs are "untouched" can only be living on a different planet to myself. And of course, many Silbermann organs were destroyed beyond recovery in the second world war, yet even these in their totally re-created state are still referred to as "Silbermann organs"!
2. "Baroque Tricks", Ralph Downes, Oxford 1983.
Despite a phenomenal amount of research into pipe scales, Downes unconsciously succeeded in demonstrating in this book that it mattered less than he thought. Apart from anything else, the scales used by Arp Schnitger on which he tried to model much pipework of his organ at the RFH "... exhibited such variety that ... I despaired of getting much further on any such basis ... " (his words). And he either knew nothing about the scales used by Silbermann or he ignored them, because not one example is presented.
3. Editorial, BIOS Reporter, April 2005 (British Institute of Organ Studies, anonymous).
Amplitude Ratio

(as a decimal)

Amplitude Ratio

(as a fraction)

dB value

1

1

0

0.707

1/√2

-3

0.5

1/2

-6

0.1

1/10

-20

0.0333

1/30

-30

0.01

1/100

-40

0.001

1/1000

-60