Last updated: 16 February 2017. Click About This Website for update list.
This site does not invade your privacy by inserting cookies into your computer (more >>)
This site is a mirror of the original one (more >>)
For over seventeen years the most stable and extensive resource on the Internet for pipe and electronic organs
The hub of this site is the Complete Articles page which gives you instant access to many detailed articles dealing with numerous technical aspects of both pipe and electronic organs. Use the Google search box below to quickly identify areas of interest. While browsing, why not also listen to over 4Ĺ hours of music played on the three manual organ below and the Prog Organ virtual pipe organ here?

SEARCH THIS SITE
Google has yet to fully index this mirror site, so it is recommended you do searches on the original one which is fully indexed

LATEST ARTICLES :
Early keyboard temperaments - their development and cultural environment
This article discusses the tendency of some modern authors to reflect today's norms of fashion, musical culture and understanding of physics into their writings about early temperaments, when these matters were in fact very different several centuries ago. A prime example concerns the difficulty of tuning intervals accurately until relatively recently when electronic tuning devices appeared in the late twentieth century. Until then tuners of keyboard instruments had to time beats using various less precise methods, and even this only became routine from about 1800. Prior to that tuning was done for centuries using the vaguest of instructions which appear ludicrous to modern eyes. The reasons for this are that beats and the harmonics which generate them were for long imperfectly understood, and practical means for timing them accurately did not exist. The plethora of different pitch standards made things worse because beat frequencies depend on absolute frequency. There were also problems due to the slow dissemination of temperament theory, together with widespread educational narrowness which meant that most musicians and tuners would not have understood it anyway. In addition, hand blowing and poorly-designed winding systems meant that the tuning stability of organs was badly controlled regardless of how tuners might have struggled to set a temperament accurately. The upshot of all these factors is that the sharp focus applied to subjects such as key colour today can be anachronistic if it is assumed that our predecessors several centuries ago viewed them as we do. Obviously, the key colours of a temperament become elusive if it cannot be set up accurately in the first place on an instrument with stable tuning, and for centuries this would have been the case with the organ.

Therefore several important features of musical temperament have been placed in an historical context, including an understanding of frequency, harmonics, beats and how these influenced contemporary tuning practices. Another factor unique to the organ concerns the subjective colours of temperaments, not only in different keys, but also with different stops. In addition, differences among early scholars between a philosophical and empirical approach to knowledge are discussed to suggest how material before the mid-eighteenth century might be better interpreted. In particular, some results presented by theoreticians might well not have been tried for real because of an absence of how to translate them into practice.
My metronomes won't synchronize
This article was first published in Physics World, the house journal of the Institute of Physics. It discusses the curious topic of pendulum synchronization which has been observed since the first clocks were developed hundreds of years ago, but uses metronomes instead. In fact my pair of metronomes do not synchronize as most others seem to do, and it is this feature which is examined in the article.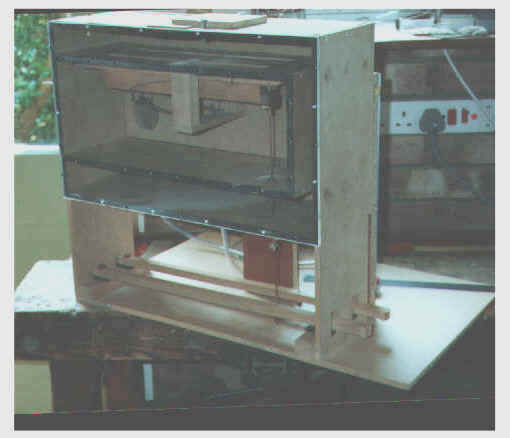 The picture above is of a test rig used for experiments on pipe organ valves, such as those described in the articles entitled Calculating Pallet Size, Touch Relief in Mechanical Actions and Response Speed of Electric Actions. These can also be accessed from the Complete Articles page where summaries are also available.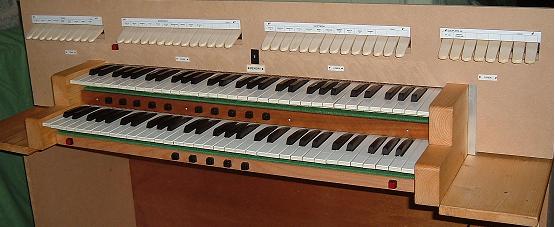 Pictured above is an experimental digital organ which simulates many different pipe organs (Prog Organ). Also see the article entitled Re-creating Vanished Organs.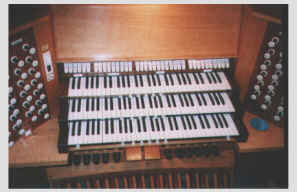 This electronic organ is a dual purpose instrument containing both "straight" and "theatre" voices, designed and made by the author. It is tuned to the author's Dorset Temperament with the addition of some impure octaves as described in Keyboard Temperaments with Impure Octaves. A full specification can be downloaded here (PDF file, 717 kB).
The things they say:
"Just like a town hall organ"

"If I didn't know better, I would say this was an Edwardian instrument with its choir organ spoiled by turning it into a baroque-type positive forty years later - much like many British pipe organs in other words. I love it"

"The finest electronic organ I have ever played, simply because it has a genuine warm Romantic sound rather than spit and chiff just for the sake of it"

"pretty impressive - but lacking the proper starting and ending transients"

"You draw a stop and it sounds just like you expect it to"

"Very nice Colin. I'm so jealous"

"I'm an engineer and I know how you do it, but not how you do it so well"

"Amazing how the great diapason chorus can stand on the Claribel alone"

"The reeds are lovely"

"Would you take a picture? I'm writing an article for an organ magazine and I want to be seen at this splendid console"
Hear it:
These recordings span some years and they were made in various rooms and auditoria. The older tracks were made using analogue equipment and some were recorded acoustically using microphones, hence the occasional noises due to piston thuds and page turns, etc. Other tracks were captured electrically. All are of real players performing in real time - no synthetic MIDI 'performances' here. I have not got round yet to normalising the volume settings of all the tracks so they are compatible with each other, therefore you might wish to adjust the volume between tracks depending on which ones you select. Do not be alarmed if some tracks appear to start with an excessive noise level - this simply means they were recorded at a higher level than others. Just turn the volume down to suit. In any case, it is a wise precaution to always begin playing each track at a low level to protect your audio equipment and your ears from unexpectedly high signal levels when the music begins. Although the instrument has 13 ranks of theatre organ voices in addition to its 'straight' sounds (see specification), copyright considerations preclude the inclusion of much theatre-style music here. Playing time 1 hour 35 mins approx.
Canzona in D minor. BWV 588. (J S Bach) - 5.51 MB/6m 1s

Vom Himmel kam der Engel Schaar. BWV 607. (J S Bach) - 1.5 MB/1m 38s

In dulci jubilo. BWV 608. (J S Bach) - 1.2 MB/1m 19s

Minuet in D (John Stanley) - 1.70 MB/1m 51s

Choral Song (S S Wesley) - 3.00 MB/3m 16s

Holsworthy Church Bells (S S Wesley) - 3.54 MB/3m 52s (also available here played on a simulated Wurlitzer theatre organ)

Andantino in G minor (Franck) - 5.59 MB/6m 6s (also available here played on a simulated Cavaillť-Coll organ)

Cantabile (Franck) - 4.72 MB/5m 9s

Fantaisie in E flat (1st part) (Saint-SaŽns) - 1.85 MB/2m 1s

Pastorale from Sonata no. 1 in D minor (Guilmant) - 5.3 MB/5m 47s (borrows the Vox Humana from the theatre organ!)

Monologue I in C (Rheinberger) - 2.02 MB/2m 12s

Monologue III in E (Rheinberger) - 3.01 MB/3m 17s

Fughetta no. 8 in A (Rheinberger) - 2.55 MB/2m 47s

Chorale Prelude on "Eventide" (Abide with me) C H H Parry - 3.92 MB/4m 16s

Fantasia on "Abridge" (Be thou my guardian and my guide) Thomas Adams - 2.85 MB/3m 6s

In Tune with Heaven (Alan Gray) - 2.75 MB/3m 0s

Chanson de Nuit (Elgar) - 3.28 MB/3m 35s

Cantique (Elgar) - 3.86 MB/4m 13s

Starlight (Edward MacDowell) - 2.56 MB/2m 48s

To A Wild Rose (Edward MacDowell) - 1.72 MB/1m 53s **

To be sung of a summer night on the water (Delius) - 1.98 MB/2m 10s

Andante in D (Alfred Hollins) - 7 MB/7m 39s

Solemn Melody (Walford Davies) - 3.69 MB/4m 2s

Berceuse (Louis Vierne) - 3.37 MB/3m 41s

Freu' dich sehr, O meine Seele (Karg-Elert) 1.79 MB/1m 57s

O Gott, du frommer Gott (Karg-Elert) - 2.19 MB/2m 23s

Adagio in E (Frank Bridge) - 5.06 MB/5m 31s

Lento (Frank Bridge) - 2.34 MB/2m 31s

** Played on the theatre organ

complete articles other publications contact me about the author about this website Prog Organ - a VPO sitemap what they say
Website copyright © C E Pykett 1999-2017. See About this Website.